American Pine Nuts
- Shell Free, Forest to fork
Nevada Pinon Pine Nuts-
SAFE FOOD - No other nuts processed with Nevada Pinon Pine Nuts
Slow Food -
American pine nut Kernels (USA) Domestically Grown -
100% Grown and Processed in United States - Species P. Monophylla - Shopping Cart is provided by www.pinenut.com
Bloomberg News Service Quote Tree Caviar "
We make 100% natural sustainable products from American Pinon Pine Nut Forests
#1 Pine Nut Kernels - 100% Species Specific
Photo Credit - 100 Miles - 100 Foods Portland OR - Local Food
Nevada Jumbo Soft shell Great Basin Pine Nuts shelled and dehyrated naturally at 110 -120degrees! The most flavorful of any pine nut you will ever try. American Pine Nut product, including pinon pine cones, pine nut shells (for pine nut vodka tinctures) Truely an amazing product ! See our reusable grinder, add your own spice blends and have instant pesto!! Grind pine nuts on your salads, oatmeal, baked goods!\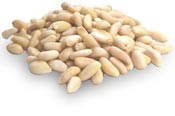 SHELLED Nevada Pinyon PINON PINE NUTS Shell Free –
Jumbo Nevada soft-shell pine nuts (Pinus monophylla), shelled and gently air-dried at 110 degrees F. They are awesome. Sweet, very rich flavor. We are sure you'll find these pine nuts the best you ever tasted! More than 2 1/2 lbs of pine nuts were required to create a pound of this most amazing delicacy. 2017 Processed, FRES.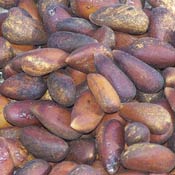 #2 Air Dried In Shell Nevada Pinyon Nuts
IN SHELL PINON PINE NUTS - Product of US
American lovely pinon pine nuts from the 2016 harvest - gently air-dried at 110 degrees F to retain all the enzymes and vitamins! Snap, crack and roll, perfect snack food. Really soft shell - easily crack with your fingers. Ready to eat. Nothing added. Gentle air-drying drives lots of moisture from the nut, intensifying the taste BIG TIME and giving you many more nuts for a dollar! This product is shelf stable and has been reduced to a low moisture content for food safety and stability. 100% Unlike RAW pine nuts sold elsewhere - we do aware of food safety issues, and produce products people can feel safe feeding their ptets. Nevada pine nuts contain a great deal of moisture, which is why we deyhdrate, or roast THESE ARE SAFE for your children and pets.
$19.95/lb 10+ lbs: $14.99/lb
Pine Cone Extract - what we do after we remove the pine nuts from the cones
Pinon Penny